Kamen Rider 555 The Movie: Paradise Lost adalah versi live action yang bersetting setelah ending dalam serialnya dan memberikan ending alternatif. Sebagai live action film yang dirilis tahun 2003 ini melanjutkan Kamen Rider Ryuki: Episode Final yang dirilis tahun 2002.
Sinopsis :
Di masa depan Smart Brain nyaris mewujudkan ambisinya karena 90% populasi bumi telah dihuni oleh ras jenis baru bernama Orphnoch sedangkan ras manusia diambang kepunahan. Takumi Inui sang Kamen Rider Faiz yang diharapkan menjadi penyelamat umat manusiapun dinyatakan hilang setelah diserang Riotrooper. Sejak kejadian itu Mari Sonoda membentuk kelompok pemberontak bersama dengan manusia lain yang masih tersisa. Mereka menyerang markas Smart Brain guna merebut "Emperor Belt".
Sementara itu trio Orphnoch Yuji Kiba, Naoya Kaido dan Yuka Osada ingin agar manusia dan Orphnoch hidup damai berdampingan. Sayangnya keinginan itu dihalangi oleh Kyoji Murakami, sang pemimpin Smart Brain, yang menyatakan bahwa tidak ada lagi tempat bagi manusia di muka bumi. Smart Brain juga memperkenalkan Psyga, rider baru yang lebih tangguh. Dengan mudahnya Psyga membunuh Kamen Rider Kaixa dan membuat harapan ras manusia memenangkan perang kian tipis.
Karakter :
Kamen Rider Faiz / Inui Takumi
Inui Takumi, adalah karakter utama dalam serial ini yang diceritakan hilang dan lupa ingatan karena serangan Riot Troper. Karakter Takuimi diperankan oleh Kento Handa.
Mari Sonoda
Mari Sonoda adalah Pemimpin dari Human Liberation Organization. Karakter Mari diperankan oleh Yuria Haga.
Kamen Rider Kaixa / Kusaka Masato
Dia adalah satu-satunya anggota sekolah Ryuseji yang dapat dengan baik menggunakan Kaixa Rider Gear, karena beberapa anggota lain yang mencoba memakai Kaixa gear, selalu berakhir dengan kematian usai memakainya. Hal itu dikarenakan oleh sel orphnoch yang telah diimplan ke dalam tubuhnya, sehingga dia dapat berubah menjadi Kaixa dan tidak merubahnya menjadi orphnoch.Digambarkan sepanjang seri, dia sangat terobsesi dengan Mari, dan membenci Takumi karena kedekatanya dengan Mari. Karakter Masato diperankan oleh Kohei Murakami.
Kamen Rider Delta / Shuji Mihara
Dia juga salah satu anggota Ryuseji. Digambarkan dia adalah seorang pengecut, dia berusaha melupakan segala sesuatu mengenai orphnoch dan ingin menjalani hidup normal, sehingga pada awalnya dia tidak berkeinginan untuk bertarung, namun akhirnya dia mau bertarung bersama Takumi dan Masato setelah Rina, teman dekatnya, mengalami kecelakaan, kemudian dia menggunakan Delta Rider Gear. Karakter Mihara diperankan oleh Atsushi Harada.
Kamen Rider Orga / Yuji Kiba
Pada awalnya dia adalah seorang manusia biasa, namun setelah kecalakaan yang dialaminya, dia mati dan bangkit kembali menjadi seorang orphnoch. Meskipun dia seorang orphnoch, namun dia tidak berkeinginan menyerang manusia, dia juga berteman baik dengan Takumi, sebelum akhirnya dia mengetahui bahwa Takumi adalah Faiz, sosok yang dia benci karena dia menganggap bahwa faiz hanyalah "anjing" pesuruh Smart Brain, namun setelah dia mengetahui bahwa Takumi juga seorang orphnoch, dia kembali berbaikan dengan Takumi. Mendekati akhir kisah Faiz, dia justru menjadi ketua dari Smart Brain, dan berkeinginan untuk membangkitkan raja orphnoch, tapi di akhir kisah dia kembali membantu Takumi dan Mihara melawan raja orphnoch. Karakter Kiba diperankan oleh Masayuki Izumi.
Kamen Rider Psyga / Leo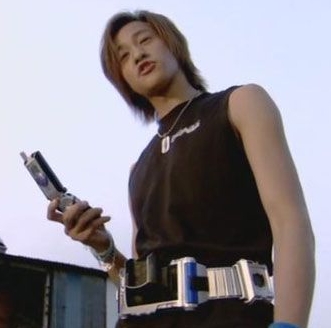 Leo adalah pengguna Psyga Gear. Leo adalah Lion Orponoch yang diawasi langsung oleh Rose Orponoch. Psyga Gear adalah Belt generasi baru dan sangat kuat. Kamen Rider Psyga adalah rider ekslusif di seri faiz.
Trailer :
INTERNET CAFE & PLAYSTATION RENTAL
Jl. MT Haryono 73, Ruko Dinoyo Indah Kavling 1 Malang 65145
(200m barat laut Univesitas BrAwijaya)
HP/SMS/Whatsapp: 085604909049
FB: Gamezone Internet Cafe & PlayStation Rental
GPS: -7° 56.777′, 112° 36.736
Google Maps : https://goo.gl/rcyxAL
Jl. Raya Tlogomas No.29G, Ruko Tlogomas Indah II Kav. 7 65144
(Depan UMM Kampus 3 Malang)
HP/SMS/Whatsapp: 085855469604
Jl. MT Haryono 73, Ruko Dinoyo Indah Kavling 6 Malang 65145.
HP/SMS/Whatsapp: 085736005680
GPS Coordinate: -7° 56.777′, 112° 36.736′
Bondowoso – 0341-552719, BBM: 542364E5
MATOS – 0341-559121, BBM: 52644EFF
Jl. MT Haryono 73, Ruko Dinoyo Indah Kavling 6 Malang 65145.
HP/SMS/Whatsapp: 085791246807
Landungsari 085746934636, BBM: 57B8FDE2
Bondowoso 0341-552719, BBM: 542364E5
Come, Play, and Feel the Difference!!